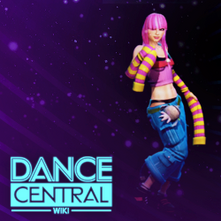 Dare
Full Name
Dare P. Batheson
Crew
D-Coy
Crew Partner
MacCoy
Height
5' 4"
Weight
114 lbs
Birthday
February 29
Other Details
Voice Actor
(Unknown)
First Appearance
Dance Central
Playable In
DC, DC3

Dare is a character featured in Dance Central and Dance Central 3. She is a member of the D-Coy crew with MacCoy.
---
---
Outfits
| DC Classic | Under Control |
| --- | --- |
| | |
Dare's playable outfits in Dance Central 3.
Quotes
Dance Central
Character Selection
"It's the D, the A, the R, to the E. Heh, alright. Let's get it sorted. Leave a message after the tone and I'll ring you back. Cheers, then."
"Hi you've reached Dare. I'm like, uh... really tired from clubbing last night. So uh... if you can leave a message I'll ring you back after I've had a bit of rest. Alright then, cheers."
Dance Central 3
0-2 Stars
"So that was kinda crazy there, right? Is it just me?"
"I am over it! So over it. Let's go do something else, yeah?"
–
3-4 Stars
"Clear out the dance floor! It's all about you, darling."
–
5 Stars
"I believe in alien abductions, Goji berry smoothies, and your talent."
–
–
–
–
Dance Battle
Trivia
Dare's original name was Kyoko after Perlott's old penpal. But during a meeting,

Dare Matheson (lead artist who was absent) became her namesake.
Hellion stated "... for some reason I thought of the character as having a voice like Lady Sovereign. Once I mentioned it we all started to kind of think of her as British, so that's how we voiced her."
According to one of her beginning dialouges in the first Dance Central, she makes most of her outfits.
Her bloodtype is B positive. Most likely a pun on her optimistic attitude.
Community content is available under
CC-BY-SA
unless otherwise noted.